Flysurfer Infinity 3.0 Infinity Bar -- 50 cm -- SOLD


I have a 50 cm Infinity 3.0 Bar for sale - used in good condition condition. No lines included.

https://flysurfer.com/project/infinity-3-0-airstyle-bar/

Plenty of life left (I purchased new). The depower rope is discolored some but in great shape. Clean, simple setup...

Asking $125 shipped within US.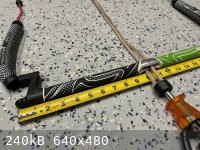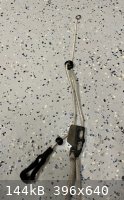 10m Flysurfer Soul V2, Flysurfer Peak 5s (2.5/4/6/8)
Land: 16" Dirtsurfer GP, MBS Pro 90
H20: 134 Shinn Monk Chromatic, Slingshot 103cm Hope Craft w/ Axis BSC or Triton T1 Monowing


SOLD - thanks!





10m Flysurfer Soul V2, Flysurfer Peak 5s (2.5/4/6/8)
Land: 16" Dirtsurfer GP, MBS Pro 90
H20: 134 Shinn Monk Chromatic, Slingshot 103cm Hope Craft w/ Axis BSC or Triton T1 Monowing