Custom Kite Buggy


Up 'till now I really havent put much energy towards selling my buggy, but I think the time has come where I could really use the garage space and someone could get more use than I do for this well sorted buggy.

The Buggy - started life as a Flexifoil, has been pimped to a serious beach machine.

Peter Lynn BF front end
Peter Lynn Extended, Kinked Downtube
Peter Lynn Seat (lower CG)
PL side rail pads
Foot peg grips (really handlebar grips), they work
Flexfoil splash sheild
Custom back rest
Custom wide, extendable rear axle 95cm to 135cm and back again for transport
Nanco BF tires on Std. PL wheels (Bigfoot Lite)

This is for sale together (I'm not looking to part out), located in the Monterey, Ca. area and would of course prefer local pick up, but if you just had to have it, I'm sure we could figure out how to get it shipped out to you, shipping would be available at buyers expence.

Now I've had at least two people inquire seriously about this, only to ultimately waste alot of my time, so I must say that I'm happy to answer any questions and supply pictures, but if your unsure if you want it or are looking for a fire sale, or perhaps just wanted to collect pictures, please move on, sorry to be so harsh about that and am again happy to entertain serious inquiries, but you know, enough said on that.

I have quoted shipping from California to Nova Scotia, at $210, Fed Ex, just to give an idea, the buggy weighs in, complete at 60 lbs, you could probably add 8-9 lbs for packaging (would want to keep it under #70 to avoid freight costs), I, of course will be happy to pack it all up for survival, buyer again would be responsible for costs and I'm sure you would want to insure for value, or in the case of our Canadian brethren, I can work with to help as much as possible.

No disappointments here, really set up for beach buggying, but would probably make a great dry lake bug too.

Price is $800 F.O.B Monterey, California. If you want to contact me , just U2U me here. Currently I'm not looking for any trades, and this all will be available until its not (while posted). If you really truly interested please reply with your phone number, open to answer any questions you might have.

This buggy was well over $1100 to put together, and is in great shape, so asking price does represent a terrific value and wont be discounting as you cant even buy the buggy or parts to replicate this one.

Great setup for beginner or seasoned buggy pilots as well. Thanks for looking.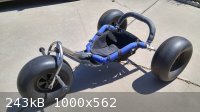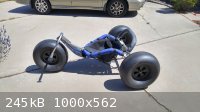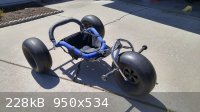 2009 HQ Apex ll 5.0m
2009 HQ Apex ll 7.5m
2009 HQ Apex ll 10.0m

2011 Liquid Force Envy 9m

2010 Ocean Rodeo Mako King
2010 Totora 5'0" Surf Skate

Flexi BF/Convertible Xtendo Axle Buggy