WELDNGOD

-

3-10-2008 at 02:37 PM



It's on now, I'm gonna have to try my hand at that. will post later
---
WELDNGOD

-

4-10-2008 at 06:53 AM



still in R&D , can't decide which way to go yet,sorry.
---
doomwheels

-

4-11-2008 at 01:23 AM



This may help you:
http://www.doomwheels.com/articles/buildwod.php
---
WELDNGOD

-

4-11-2008 at 07:45 PM



Thanks Bro' , Ive seen your site . I think it's kick a$$,but I'm the weldngod I gotta come up with my own twist( hopefully not my knee, ankle , hip , neck and other essential parts ).

My biggest concern is that I sustained a Achilles tear where the tendon turns to muscle, I'm afraid I might put too much strain on it ( I will never be 100% again in that leg). It would be just below where the boot stops.
---
NPWfever

-

4-11-2008 at 08:45 PM



Here's my shot!

Duallys: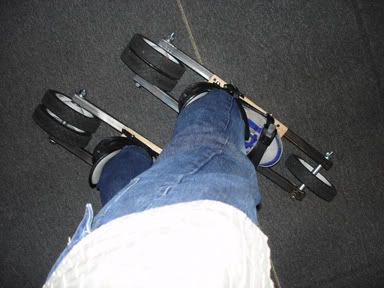 Side:



Rock out dude:

---
WELDNGOD

-

4-11-2008 at 09:17 PM



I'm diggin' those duals dude! Let me know how it handles, I am open to all input.Keep it comin!
---
Bladerunner

-

4-12-2008 at 09:21 AM



Two words come to mind .......

STEP TURN
---
NPWfever

-

4-12-2008 at 09:32 AM



Yeah, step turn=evil. Not much I can do about it though. Or can I......? How do I fix this?
---
WELDNGOD

-

4-12-2008 at 01:21 PM



what do you mean?Is affecting how you turn?If so it might be the squared edge of those wheels, you might need a wheel with a rounded profile.
---
macboy

-

4-12-2008 at 11:25 PM



Or a caster setup with pivoting axels? Still likely need rounded profiles.

Yep - most definitely. Now I winder if you could articulate the axel as well as the caster so the wheels could tilt independently. Is there such an animal as a ball & socket setup?

Overengineering. Maybe I best just get to bed.
---
NPWfever

-

4-13-2008 at 07:19 AM



I will give them a run...hopefully today. Make sure they are stable enough to run, and if I like them I will go hit harbor freight and get some 10" pnematicsw/ rounded edges. Those should allow me to edge.
---
Bladerunner

-

4-13-2008 at 08:28 AM



The only way to shorten the turn without getting all fancy is to shorten the total wheel base. What you gain doing that you will lose in stabilaty. Unfortunatlely it's a trade off.


Having to step turn isn't all bad. You spend most of your time cruising and just trying to keep an edge anyway ! Definately an advantage in being able to angle the wheels like this / / so I wonder about how 2 back wheels will work ? You will get it down to a style and it will still be fun !

I notice that often doom wheels are designed with the wheels offset. If the 2 wheels in back aren't cutting it, try the offset method next time !

I hope you like them !!!
---
NPWfever

-

4-13-2008 at 09:49 AM



I would break my ankle without the duallys. The tripod base adds stability and allows you to lean more easily, and be stable while doing it. I did think about having the boot attach more to the side, but I couldn't do it with snowboard bindings, they were too wide. They would need to be like 10" wide.
---
WELDNGOD

-

4-13-2008 at 06:18 PM



let me know how it goes. I think the rounded tires will work better,they are wider. Therefore they will most likely not make you want to break your ankle.what about better bearings? the ones in those wheels are low speed junk. I'll see if I can locate those kind of bearings, let you know what I find.
---
NPWfever

-

4-15-2008 at 06:09 AM



I will hopefully get out w/ them today and the N-ARC. I will go round when I know they work. And idk about those bearings, I don't want to go too fast right now. And they go pretty fast down the hill and my park. It's alot faster when you forget you need to step turn, and are leaning as far to the right as you can heading at an 8 foot drop set of "bleachers"+ a baseball backstop.

---
PHREERIDER

-

4-15-2008 at 07:50 AM



NICE set up. I'll have to post a pic of my DOOMWHEELS. you did your self a favor with smaller wheels. i have 12" AND POWERSLIDING IS OUT!
FIRST RIDE OUT I USED npw5 NOT TOO BAD, YOU DO NEED ALOT OF ROOM TO WORK OUT SPEED CONTROL AND TURNING. LIGHT WIND CRUISE IS ABOUT ALL I COULD WORK OUT. WITH MORE POWER I COULD LEAN ON THE UP WIND OUTSIDE EDGE WITH HEAVY PRESSURE DOWNWIND INSIDE EGDE. HARNESSING WORKS BETTER. ON PACK SAND THE SPEED SEEMED ENDLESS. I DON'T SKI MUCH BUT CERTAINLY FEELS THE SAME. THE 12"(6' platform) is high and it requires respect.
good luck
---
bdub

-

4-15-2008 at 04:36 PM



I'm in the process of making a pair with skateboard trucks, off road skateboard wheels, and ski blades. I come from a snowkite-sking background with mountainboarding in the summers. I built a pair of doomwheels with 12" pneumatics and they didnt work for me. I was able to tack upwind with ease and control them no problem but they had a high center of gravity and boosting is not an option. so next I dropped the center of gravity by welding drop bars on the top of the main rails. This worked better but landings were still tough. I dont have any problem boosting on my mountainboard. so my thought is four wheels under foot, the ability to pivot on the trucks for ease of turning (like individual mountainboards on each foot) and quick release bindings that can be used with my hiking boots or if a friend wants to try them. I found a pair online called quadline skates the scorpion model, I might just buy these, but I think pushing the wheels out in front and behind your foot will help for boosting and tacking. Just my 2 cents. Hey weldngod, I also built a homemade buggy it's on the montanakitesports.com website. You also might have some competition in the buggy welding game. I'm trying to get my friend to weld up a buggy. he ownes Strong frames in bozeman, MT and he is the best exotic metals welder i've seen. His Bikes start at $3000.00 plus. I'd step up my self but my tig skils are lacking at best. I had to mig my buggy together, but many a session later and all is well! Nice job on the buggys, I cant wait to see the blades!
---
PHREERIDER

-

4-16-2008 at 09:10 AM



doomwheels setup
ALUMinum rails with offset
old skate bearing and spacers as spacers
old "DIRK" vert. skates $40 10 yrs ago
aluminum $36
bolts n nuts $12
(4)12" wheels $24

pics hopefully will be below[img]null[/img]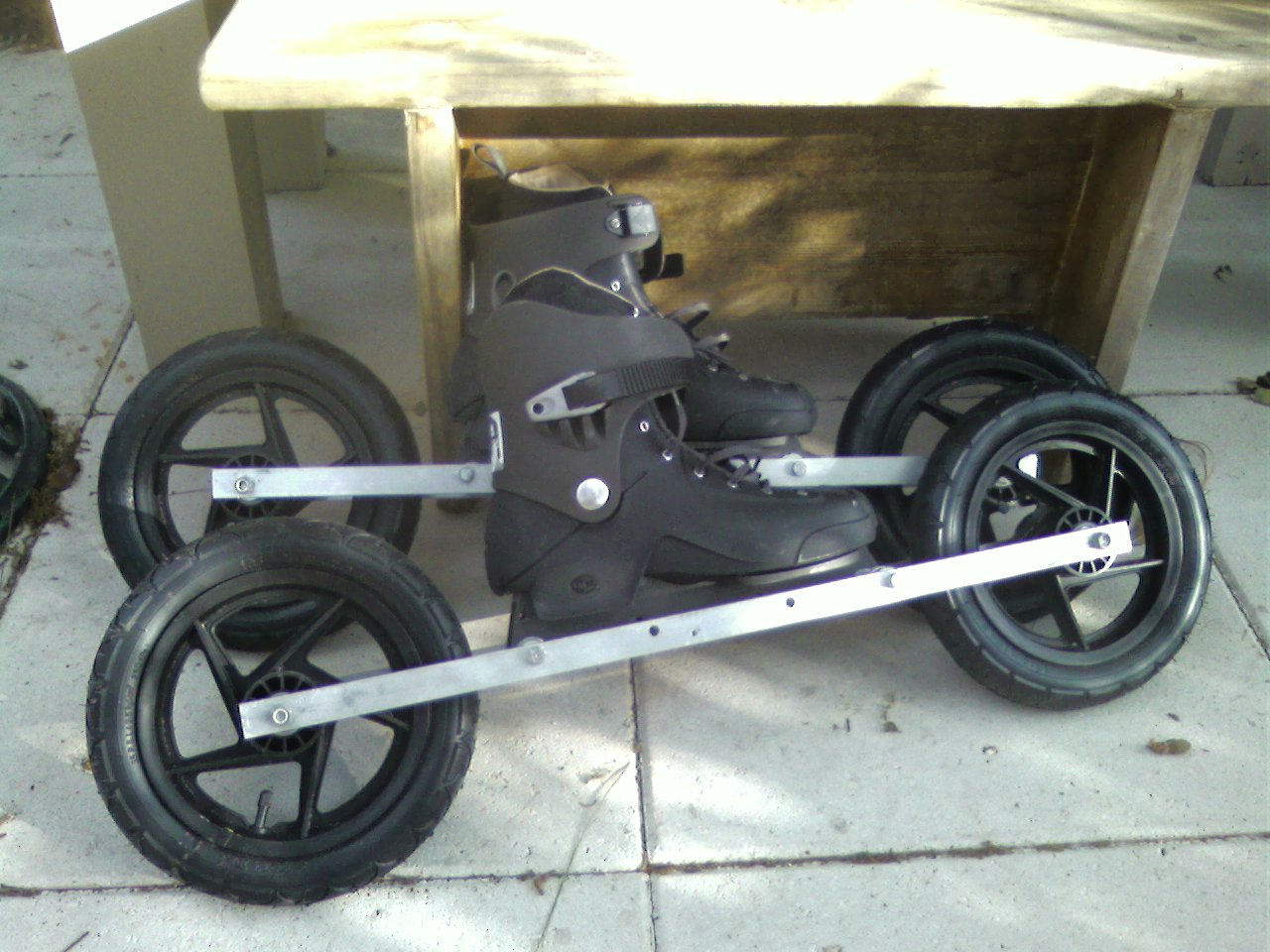 ---
Bladerunner

-

4-16-2008 at 09:18 AM



It's good to hear folks are still following the " Icemonkey's " lead and building more ice machines.

Meeting Keith Kalio from Montanakitesports changed my life
May his Spirit continue to soar over Montana :!:



---
PHREERIDER

-

4-16-2008 at 09:22 AM



spacer shot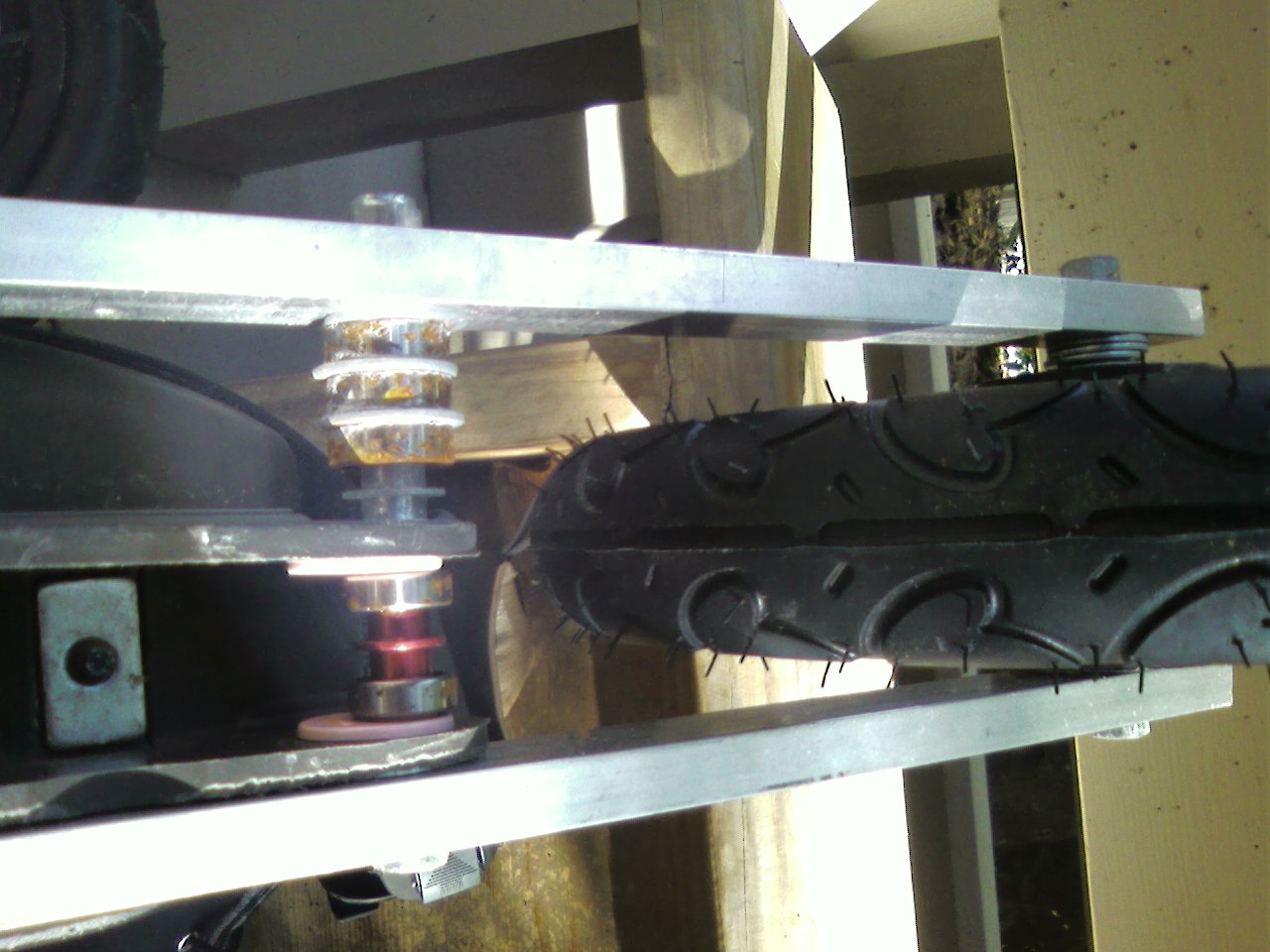 ---
PHREERIDER

-

4-16-2008 at 09:31 AM



more pics
---
WELDNGOD

-

4-17-2008 at 06:30 PM



resize em
---
PHREERIDER

-

4-18-2008 at 08:13 AM



workin on it, gotta get back on the wife's MAC
---
SecondWind

-

4-18-2008 at 03:42 PM



goldendmb,

What are the dimensions of the rails and where did you find them?

Thanks!

Joe
---
PHREERIDER

-

4-19-2008 at 04:35 PM



1/2"X1"alum. 6200(?)

speedymetals.com good stock stuff with nice selections of sizes & fast.

i cut theses at 29" plenty of room for tool work on the end ( holes. pins slots) or whatever you care to hook up. i always try to make the larger components go into another rig so they are expandable (Rust free recycled fun parts) so they are worth $ and don't stagnate.

wheel hub width is a limiting factor, build from that....quality and size=$


bolt/axles, players choice ....keep it simple all one size or even better from some rig carcass

more pics soon (water and wind are ON and it calls)

chad
---
PHREERIDER

-

4-21-2008 at 11:15 AM



more pics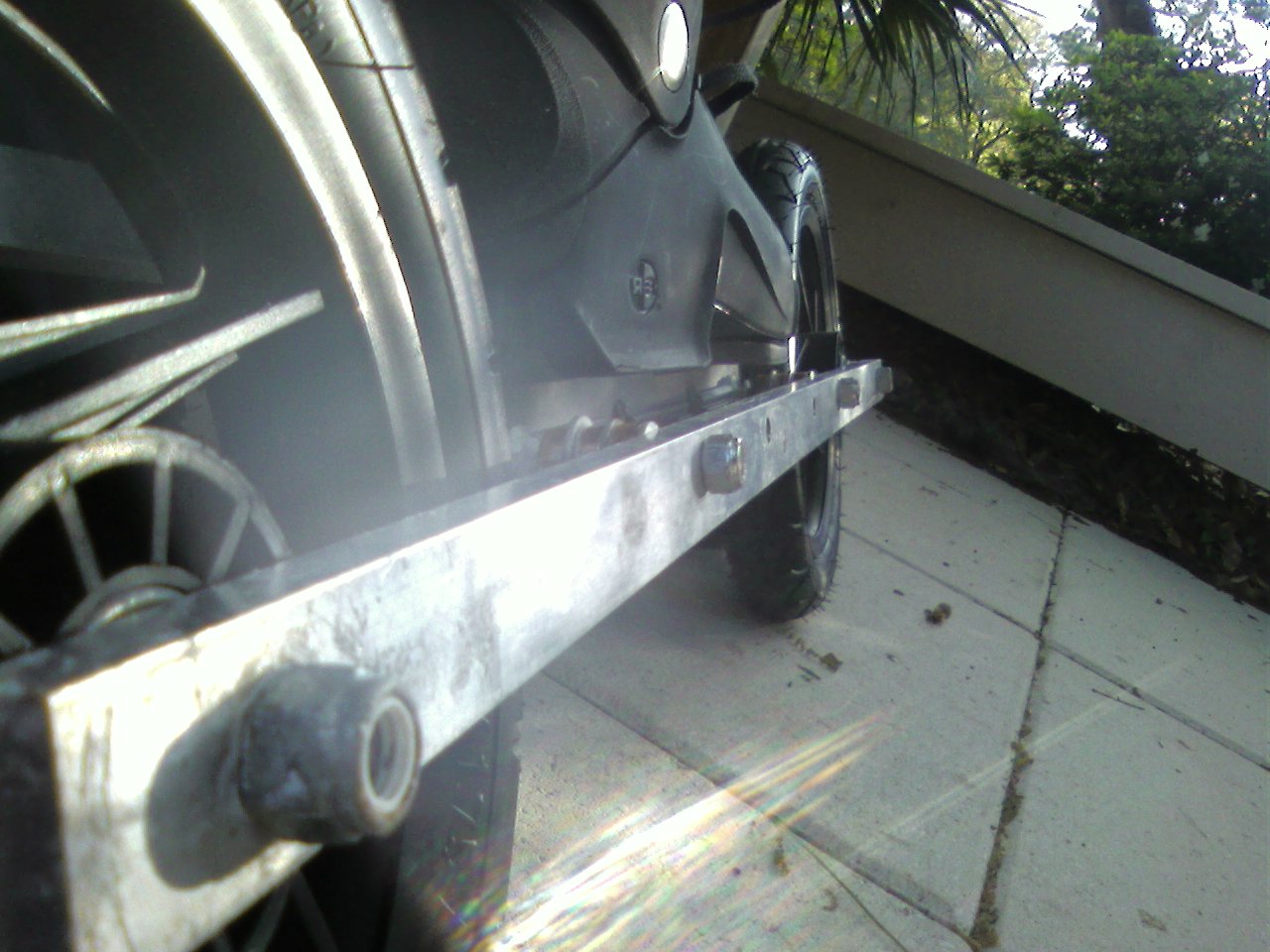 ---
PHREERIDER

-

4-21-2008 at 11:27 AM



boot/frame offset favoring inside rail and frontwheel offset to inside rail. I tried symmetrical as well as offset set up(easy to change) and the ride difference seemed small but over greater distances may add to up wind edge.


---
PHREERIDER

-

4-21-2008 at 11:52 AM



front wheel/back wheel shot
this setup widens rear track
and slightly lowers CG through the heel on the inside edge


---
PHREERIDER

-

4-21-2008 at 12:04 PM



last pic and a fair warning. release bindings would be nice,,... THINK ABOUT THIS BEFORE YOU PUT THESE ON. THE SPEED TO MAKE THESE POWERSIDE COULD DISMEMBER YOU PLAN AND PAD RESPECTFULLY

CHAD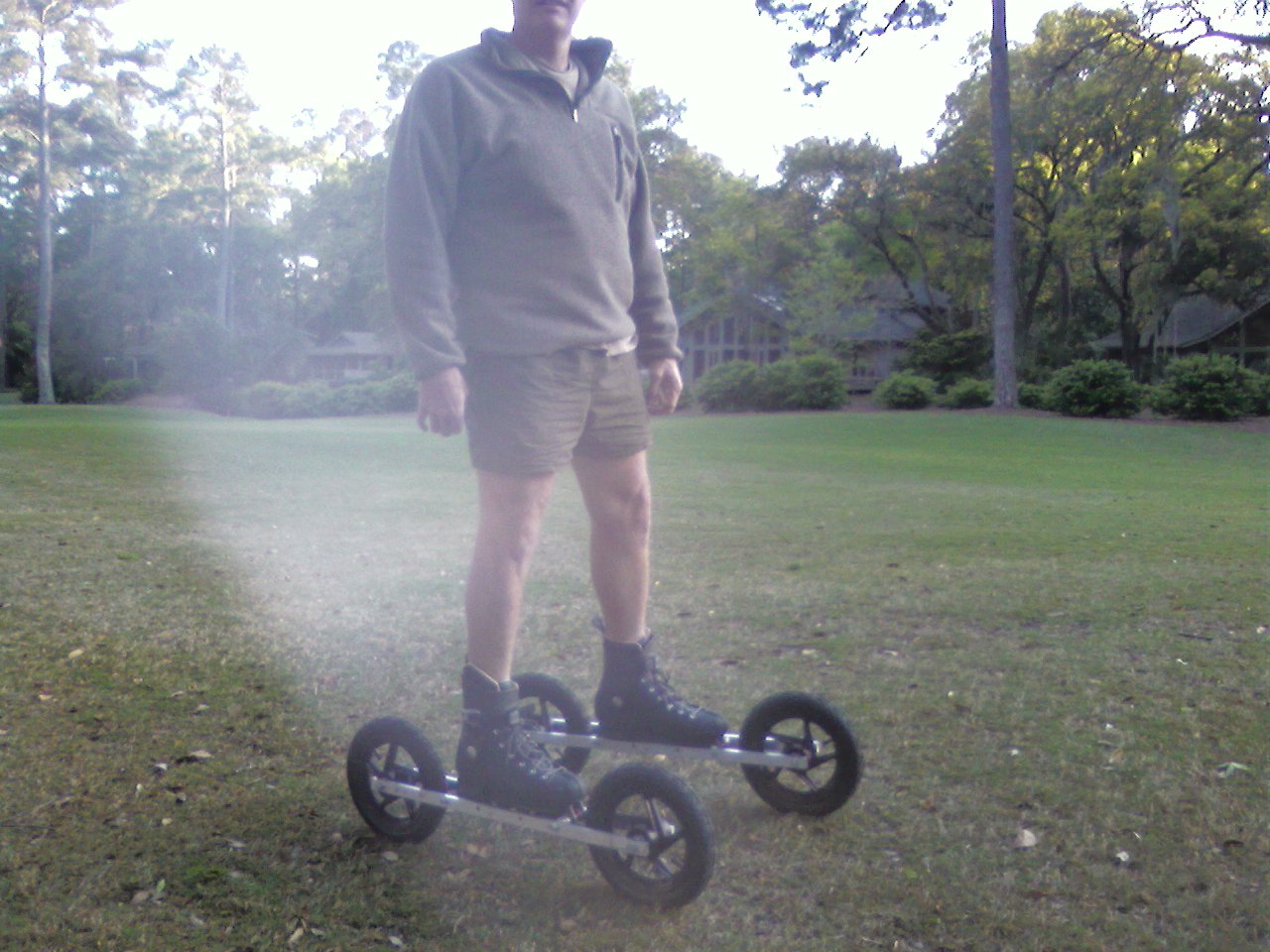 ---
SecondWind

-

4-21-2008 at 01:12 PM



Thanks for the info!

Do you feel any flex?


---
PHREERIDER

-

4-21-2008 at 02:30 PM



Yes, more through the pneumatic tires, the rails difficult to say. I'm 215 lbs. and they feel like skis...more like a no bounce bike feel. A down hill run easy slope to feel out the ride. Anything techinal with 12" would take supreme balance and control. I do alot of inline speed at pro speeds and the 6" platfrom is just too much, maybe with more time that would change. 4" platform makes them more usable transportation.
peace
chad
---
PHREERIDER

-

6-16-2008 at 07:01 AM



here's a updated set up

dropped the 12" and reset with 8" (shared from my MBS).

the feel is better can actually "skate" including double push at decent speed.

so i can skate back if the wind is down.

i think most would prefer to use with poles for cruising.

still haven't hooked my 12m with these. and cautious cruising with NPW5

fall/winter will put more time on them

pic with 8" set up swap is <5min.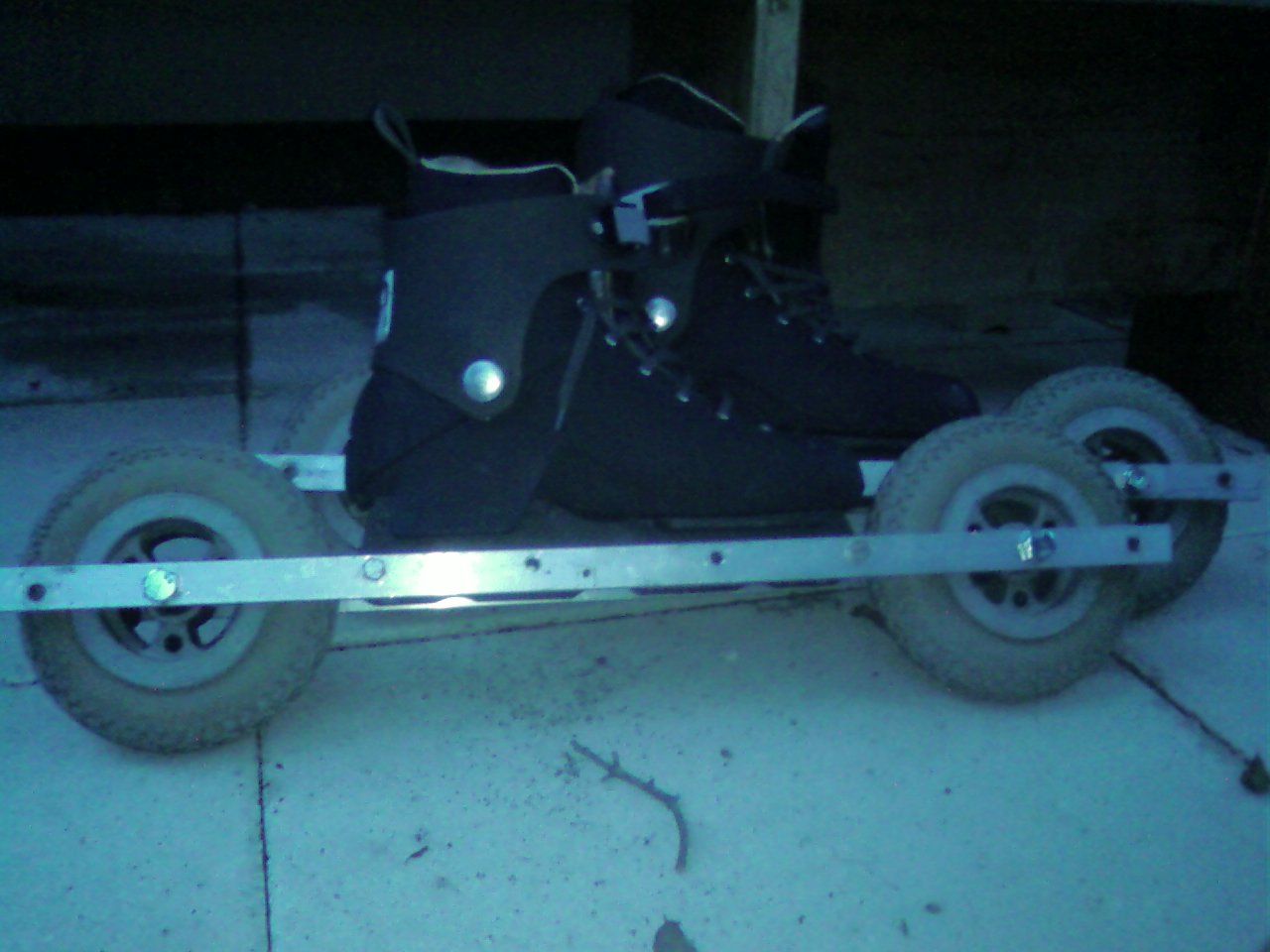 ---
doomwheels

-

6-16-2008 at 10:34 PM



12 inch wheels will feel strange when standing or rolling when the body is mostly vertical, but all makes sense when leaning against the pull up a kite. 8 inchers are fine too, but the closer to the ground you are, the more likely you may skip-out (hit the rail to the ground) when powered up and leaning against the kite.

It is also when leaning that you'll notice the offset front wheel. When rolling vertical, it has no effect.

Remember, this setup is for kiteskating. Downhill or nordic skates require a different configuration.
---
PHREERIDER

-

6-17-2008 at 04:53 AM



i have the 12" set up with the off set. these i set up favoring the inside rail. more of a travel and versatility thing. looking to get into better wheel/bearing. the MBS worked perfect, the 9" version will give me more toy expansion use both board and skate set ups.
---