PistolPete

-

7-23-2023 at 01:22 PM




---
Randy

-

7-23-2023 at 03:32 PM




Wow!! That is really impressive! Degree of Difficulty: 10+. What kites were you using? All the same size?
---
B-Roc

-

7-24-2023 at 09:12 AM



Send it!!!!
---
kteguru

-

7-24-2023 at 11:36 AM



Must be a glitch in the matrix. I don't see any link or anything above?

Scratch that,,, it showed up in the preview below


Very nice. Definitely requires a bit of extra effort on setup, launch and landing
---
PistolPete

-

7-24-2023 at 03:32 PM



Thanks guys, glad you liked it. I've been playing around with S-Arc stacks for a few years. I'll post below a couple photos:
- Surfboard 1120 + 840
- TwinTip 1120 + 840 + 630
- TwinTip 840 + 840 + 630 + 630
- Hydrofoil 1120 +840
Needed smaller ones to stack more and I found a couple this year so the video is:
- TwinTip 630+630+630+460+460
Lines are 15m and 3m extensions.
Windrange of 10-12mph for a 200 rider, it went up to 15+mph and I had to have a hold down to land.
If there are any retired S-Arcs or other Arc kites let me know. I've got a few more crazy ideas...


---
PistolPete

-

7-24-2023 at 04:29 PM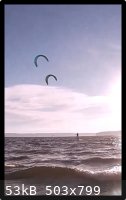 ---
PistolPete

-

7-24-2023 at 04:38 PM



I posted a 7 minute 1st person view video of riding the 5 stack on the powerkiteforumfb Facebook page for those interested click on the link below:

https://www.facebook.com/100000478129378/videos/581405130871...
---