rtz

-

7-11-2021 at 06:11 PM



I've posted about this spot once before but I wanted to mention it again. An urban lake in the city! A man made water reservoir actually. And no swimming. And at one time mainly a sailing lake and still is. Some fishing boats. Not at all a power boat lake(to small, no skiing, etc). Boats under 12' no wake(pwc's?).

The paved 9.5 mile bike trail going around the lake and the mountain bike trails at park below the dam.

Anyways a couple pics of the field from today. They will probably mow it this week. Looks amazing when they do.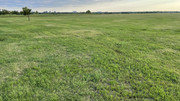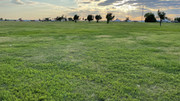 https://goo.gl/maps/VRvsfjJJSsZThW4C8
---
jantie

-

7-12-2021 at 07:51 AM



9.5 miles.... nice!!
---
kteguru

-

7-12-2021 at 09:54 AM



Nice lake. Would be real fun in the winter if it froze but I'm guessing you're too far south for the icy winter fun. Cool little park to putter around in though
. We used to have a spot like that up here til they made it illegal. One of the many reasons few people kite anymore. There's nowhere to go
---
Windstruck

-

7-12-2021 at 05:16 PM



Sweet field! Looks open enough around for nice smooth flowing wind. Hopefully not too janky! Are you allowed to use power kites / buggies on that fine grass carpet?
---
rtz

-

7-12-2021 at 10:32 PM



That field is our main riding area.
---