rtz

-

9-29-2019 at 06:34 PM



For buggy use: Is it comfortable? Does it last? Are the leg straps easy to get in and out of? Do they dig in? Any other comments about it?

https://www.peterlynnkiteboarding.com/peter-lynn-base-harnes...
---
jjesseday

-

9-29-2019 at 09:01 PM



I have the base harness. It's OK, but in my opinion the Peter Lynn divine harness is much better.. The base harness is a little bit difficult to get in-and-out of and a little bit less comfortable than the divine harness. Over all I think for the money the divine harnesses better. I haven't actually buggied in the base harness but I've played around with it static and it doesn't feel quite as nice. John (blitzhound) recommended the divine to me and he was right.
---
Windstruck

-

9-30-2019 at 05:30 AM



I haven't tried the base harness but have been very pleased with the Divine option. Keep in mind how much load you must absorb for sustained periods of time when working a kite lit up. This truly becomes apparent if you ever get the chance for really long tacks such as on a playa or beach. The Divine will effectively spread the load (share the love) and you'll be thankful for that.

My buggy career started on soccer fields riding fairly often and has "progressed" to riding on playas and beaches riding fairly rarely. It wasn't until my first trip to Ivanpah that all this comfort and fit stuff started to make sense. Your location looks to be in Oklahoma so perhaps you just are able to make laps on small fields. If so, then these comfort issues may not be as relevant since you power up and down so much on short runs, but if you ever do get to get out and play on BIG surfaces you are likely going to want a more complete harness.
---
Divine is my choice
southpadreburt

-

9-30-2019 at 07:30 AM



I much prefer my Divine harness over the Base harness. The Divine harness is much more comfortable and easier to get in and out of.
---
hiaguy

-

9-30-2019 at 11:46 AM



To answer your questions directly: No. Yes. No. Yes.

Other comments/opinion:
Divine. Period.
I have a base harness and have only used it a couple of times; there's a limit to the amount of discomfort that I'm willing to endure and it max's it out pretty quickly. I'll have it at WBB and you're welcome to try it out.

The Divine is the harness of choice by most that sit in a buggy. There are those that prefer a climbing harness or some such thing, and there's an odd waist harness.

If you've already had children, and don't mind a spanish-inquisition type fit, the Base harness is fine. Otherwise, enjoy the comfort and practicality of the Divine.
---
Bladerunner

-

9-30-2019 at 12:18 PM



I have the devine. I usr it for travel when size and weight matters. So mostly for snow kiting.
Like the others I prefer my proper Mystic harness for comfort
---
Pablo

-

9-30-2019 at 12:27 PM



I have been running a base harness for the last 6 months in the buggy, long story short, it does the job, works well enough, comfort is ok. I used to run with a full seat harness years ago, but well, new buggy and a slightly larger bottom end and I couldn't squeeze past the siderails to get into the buggy with a proper full seat harness. Base harness it is for me. If you spend the bucks and get a proper full seat you will never look back, the extra padding, the proper distribution of loads is incredible. I find with the base harness it's fine if I'm just puttering around, when the kite is loaded up hard the center bar will dig in on one side pretty badly. For some reason something in the base harness is also chewing up my shirts. Never had this issue with a full seat harness.

In the next while I will be seeing if I can widen my buggy an inch or so and will be buying myself a proper full seat harness. Just gotta buy a couple more kites first

---
rtz

-

9-30-2019 at 01:02 PM



My harness has a lot of wear due to I think the seat chewing it up. Maybe it will last forever though?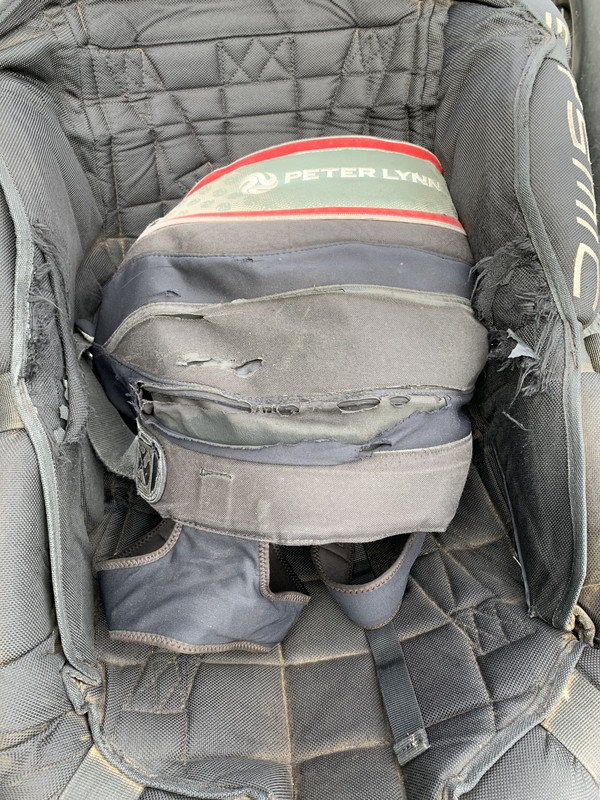 ---
hiaguy

-

10-1-2019 at 09:02 AM



That's a well-used harness!
Better a worn harness that than your pants. Maybe it's time to treat yourself to a new one?
---
RedSky

-

10-1-2019 at 05:31 PM



That's a great picture. Riding the bug until its thread bare as all bugs should be.
---