Mistajolly

-

8-22-2018 at 01:57 PM



This seemed to good to be true so I ordered a 4M Blade. I've got a 5M Beamer and thought this would be a good chance to try a high aspect kite.

It seems legit and is from Amazon and Flexifoil. They have 4, 4.9 and 6.5,

https://www.amazon.co.uk/gp/product/B06Y13SMNG/ref=ox_sc_act...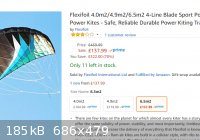 ---