jeffnyc

-

12-21-2017 at 05:04 PM



So - I'll be in western Pennsylvania for a few days after xmas - Johnstown to be exact. Anyone know any place to kite around there, or is there anyone on PKF in the general area? Really, all I need is a place to put up a kite and flop around, as there hasn't been any snow here, and I have yet to actually try kiting on my snow board...
The only spot I was able to dig up was High Point Lake down by Confluence. Is that frozen by now, and do people kite there still? Any place closer? Anyone want to meet up if the stars align and there's not too much/too little wind?
---
jeffnyc

-

1-2-2018 at 11:56 AM



Guess I should update this a little. Found rofers posts about Pittsburgh on the forum. Was very helpful to at least get me started. He made a great google doc with the spots he goes to.
http://www.powerkiteforum.com/viewthread.php?tid=31687#pid30...

Most were pretty far away, but an interesting one is the abandoned airport at Seven Springs. I didn't get a chance to try it, but will definitely try next time I'm in the area. It looks like there is some sort of trucking company or something at one end, so I'm not sure how ok it is to kite there. But the ski slopes are right across the valley if you get skunked...

So I turned to Apple maps and the satellite view to check out potential places closer to Johnstown. One end of Prince Galitzin state park looked like it might work, and it snowed the night I drove in, so worth a check... Unfortunately not quite enough snow. The terrain is pretty rugged - a lot of rocks, small trees, branches etc... but looks possible with a lot more snow cover. And it's pretty high up, so nice clean wind, and probably 10 mph stronger than the general forecast. If there was somewhere to land it would make a great hang glider launch site. A bunch of windmills next door as well - I didn't know how to get over there, but the fields they were on looked even cleaner, at least from a distance. I have an email out to the state parks about whether it's cool to kite there, will update when I hear back.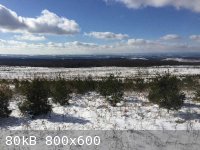 Next day I got desperate and went across the street to Roxbury park. Small park in the valley with a bunch of baseball fields, completely surrounded by trees and hills. Didn't have much hope, but by that point there was about a foot of snow, so at least worth trying to get the kite up and get a ride. Sure enough, no wind except thermals every few minutes. Was able to get the 8.5m Eskimo flying a few times, but dropped out of the sky just as quick. Mother in law was tickled (watching from the warmth of her car). Someday I'll get a chance to actually ride my snowboard... but I'm always happy to even get the kite out and up if only for a few minutes. Not sure when I'll be back there, but will update if I find anything workable. I'm sure some of the lakes would be great when they freeze.





---
gemini6kl

-

1-2-2018 at 02:10 PM




---
rofer

-

1-3-2018 at 05:53 AM



I don't check PKF as often as I used to so I only just saw this. Glad to hear you found my Pittsburgh info.

Prince Galitzin has always been a little far for me, but I've heard good things about to wind. I bet when the lake freezes there it'd be pretty good.

In Western PA in general things are rarely flat enough to get good wind so you either need to be on top of a mountain (like Prince Galitzin) or on a frozen lake. I've been following the Ice Shanty Ice Fishing Forums for ice reports and it looks like things are actually freezing already. It might have been worth checking out Yellow Creek park. I don't think the geography is right for kiting in the water (I tried anyways), but once it freezes I expect snowkiting could work there.

Next time you're around feel free to U2U me directly.
---
jeffnyc

-

1-3-2018 at 08:06 AM



Great! Didn't know if you were still around or not. Thanks for the site writeup though, was super helpful to at least get started. I was only there for a few days - next time I go I'll definitely pm you.

After this cold blast, I'd think the ice is definitely thick enough. I found this on the parks page:
http://www.dcnr.pa.gov/StateParks/WinterReport/Pages/default...
Yellow Creek has 5 inches now (when I was there it was 1/2 inch). Checking ice fishing sites is brilliant. Froze just a little too late - only about 45 mins from where I was.

What was Seven Springs like when you went? It looks like it's private property now, but hard to find info. Was it ok to kite there?

---