skimtwashington

-

1-17-2017 at 11:51 PM




Not many post this winter for snow/ skate kiting , so I thought I would post something...



I have been lucky to go mostly local in past, but this winter has been too warm with only several days playing on ice near Boston.......so We finally had to go a couple hours North. Mostly open water at home while Central NH has 8-10 inches of ice.....thankfully. Ice was not smooth throughout with melted raised snowmobile tracks and some thin hollow air pocket 'shatter' ice . Overall pretty good though.






Anyone else have some Ice/Snow riding going on...?



[img]
[/img]

---
B-Roc

-

1-18-2017 at 07:03 AM



Looks like you, Don and the Kitewing crowd on Sunapee are the only ones getting out. I was hoping this would be a good winter for snow kiting in my back yard but alas... not yet. So glad I started skateboarding. Riding pools indoors has provided a lot more fun than the winds and weather conditions these past 2 years for me but I do miss kiting.
---
Feyd

-

1-18-2017 at 08:26 AM



(SMH) What the heck do you guys think goes on up here in the winter time?
Last shot is YETI riding his new Chrono 18m that he came and picked up the other week.

We've been on the ice pretty steady since early December. The last warm up groomed the surfaces and made for some really smooth riding.

This season is kicking last season's backside.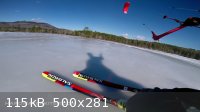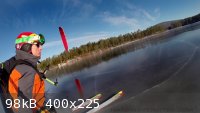 ---
Feyd

-

1-18-2017 at 08:32 AM



Got some NE winds today and 4" of snow on the hardplate. Heading out after lunch!

I love days like this. Snow muffles the sound of the ice but you can still dig into the plate and cruise with nearly zero resistance.
---