yeti

-

1-30-2014 at 11:50 PM



Going to be in the Canmore area in a few weeks. Mostly to ski. I thought I'd ask for advice on what to bring if I wanna kite around on some off days.

If someone in Canmore or Calgary can tell me what they'd recommend packing first, since I can't bring every kite I own. Right now I'm thinking 7/11m apexes since I think I will have room for them. Just don't want to get there and find out that I should have scaled up or down a notch instead.

Muchly appreciated.


---
canuck

-

1-31-2014 at 09:35 PM



You can get almost daily Spray Lakes conditions from this site http://www.rockymountainsnowkite.ca/spray.html Photos below are from January 12th

It really depends on what weather systems are around and if there is fresh snow. Winds can be gnarly. You should get a good ride with 7/11m in the car. I have most often gone with my 8m Access but there are lots of bigger LEIs out. The wind often increases quite a bit when you get 1/2 way across toward the west side of the lake .

It is usually worth the trip up from Canmore, drive just past the Sparrowhawk picnic site (about 20km from the gate where the gravel road starts) to the bottom of the hill and park on the shoulder of the road. There usually are a few vehicles parked there (fishers & kiters). Ski down the trail to the lake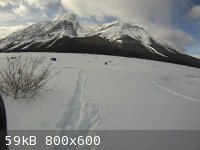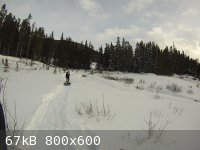 ---
yeti

-

2-2-2014 at 03:11 PM



Thanks, canuck.

From those pictures it looks like you often have deep snow on the lake. If that's likely I know I'll want at least an 11m foil. It's basically the same as the 14m LEI I have. I think with the lower altitude than I'm used to, it should be enough if I just wait for the right days. I hope that with a week I'll be able to find a day of wind. I could bring my 15m flysurfer but that might be a bit more than needed.

I see that the lake and access road is within park boundaries, so I guess that means I need a park pass too?
---
canuck

-

2-2-2014 at 09:11 PM





I went up there that day to try to catch the fresh snow. Dumped the day before. If it snows too much, the road out of Canmore is closed for avalanche control. It can be hard packed and icy on one section of the lake and soft up or downwind. It is a big mountain lake and you never can be sure what you will get... you might need that 7m.


Good news it is in a Provincial Park, not Banff National so you do not need a park pass.
---
yeti

-

3-2-2014 at 03:07 PM



Found the lake and kited late Wednesday and all day Friday. Didn't see very many other people, and not much snow.

My 11m Apex did all the work. Even Friday when I'm sure it was gusting to 20 knots or more.

Thanks goes to whoever put up this satellite wind meter recently:
http://rockymountainsnowkite.ca/spray.html


---