macboy

-

6-22-2012 at 01:23 PM



So, if you're planning on coming to meet BigBear and I tomorrow let me know.

I'm gonna stuff the freezer full of burgers and the fridge full of beers but don't want to overstuff in case BB and I decide it's time for a binge and a bender

---
revpaul

-

6-22-2012 at 01:58 PM



ahhhh cruuddddddd!!!!!!!
just going to get a hold of Derek. tommorrow is his kid's (15th) b-day plus my 5 yr old's soccer tourney.
when is the meet and great?
i really need to get the gear out of storage and knock some dust off.
Paul
---
macboy

-

6-22-2012 at 02:01 PM



Anytime. As early as 10am till who knows when. BB sent me a text this morning but I've yet to hear back. I suspect 10am might be easier for me than him - he's the one at the wedding party tonight

---
revpaul

-

6-22-2012 at 02:16 PM



cool!!!
checked windfinder...cloudy and warm all day and pretty steady 19 kp/h wind all day.
---
canuck

-

6-22-2012 at 06:01 PM



I have the green light for a road trip. It is pouring rain down here. 60th bd yesterday! If there is 7kph and no rain it will be sweet riding coyotes and the XXXL

MB, Is it best to just call you when I get to Leduc? I won't be there until 11 or so.
---
macboy

-

6-22-2012 at 11:55 PM



I'll have my cell with me. I'll U2U you details.
---
macboy

-

6-23-2012 at 08:05 PM



Really good to see so many people flying together today- glad we were able to get together. I'd say it's a safe bet that well over a thousand people got a chance to watch us today and learn a bit about the sport. Now if only I could have done something about the zero or hero winds. Once again Canuck rocks the joint and likely logs the most miles AND fewest complaints



Sadly the GoPro wasn't running so we'll never know how high I was lofted.....got some good stuff from under the Brooza and the neighbor that was out snapping pics will probably burn a pile of nice ones for us - I'll send them out.

Hope everyone made it home safe and sound. Till next time.....
---
macboy

-

6-23-2012 at 08:50 PM



Little Sailor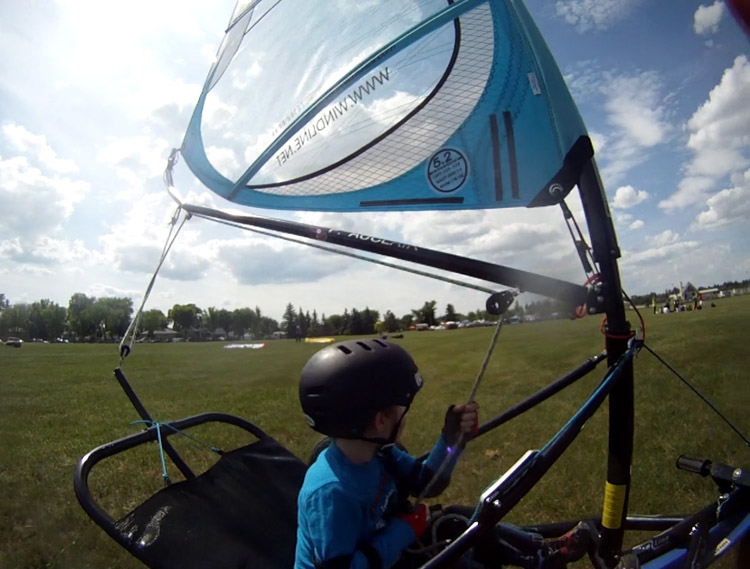 ---
canuck

-

6-24-2012 at 07:55 AM



It was great to see all of you again and meet BigBear. You have a great spot there and it was great to have 26C sunshine with no bugs (rained all day in Calgary). Other than the 10ish yr old boy riding his bike all over the place under our kites
Edmontonians seemed to be pretty good about mixing with kiters.

a BIG thanks to Kathy and Kelly for burgers and beer. I was a little more sore and stiff after the 3 hour drive home this time, but not hungry.
---
kiteboyza

-

6-24-2012 at 08:33 AM



sounds like I missed out, were you kiting in Kellies field?
---
revpaul

-

6-24-2012 at 09:16 AM




yes. kelly's home field.
that's a great pic.
he knows what "trim the sail and ease the main sheet means, and also when s$%t happens ...LET GO of the rope.
all three of which he put into use yesterday.
thanks again for burgers and 'refreshments'.
well done.
nice to meet up with everyone.
Spencer was sleeping on the way home.
Paul
---