mougl

-

3-22-2012 at 05:48 PM



I'll have a buggy soon that probably bigger than my car. My car is not recommended to use to tow even a light trailer. Hmmm.....roof rack! Problem: my car is a 2011 Prius. I have found a couple of roof racks that should work without drilling the top. I'm just not sure if the height of the crossbars would be enough. Mostly what I'm finding is 4" clearance.

Question to those who rack their buggies: which rack do you use?

Keep in mind this buggy is going to be big. Probably around the size of an Apexx. Also, I will be doing some highway driving. 70-80 mph. Any recommendations are appreciated!
---
Drewculous

-

3-22-2012 at 06:11 PM





---
mougl

-

3-22-2012 at 06:12 PM






---
Drewculous

-

3-22-2012 at 06:14 PM



Yar ship will surely crush yon tiny car... Send it straight to the briney deeps it will
---
mougl

-

3-22-2012 at 06:16 PM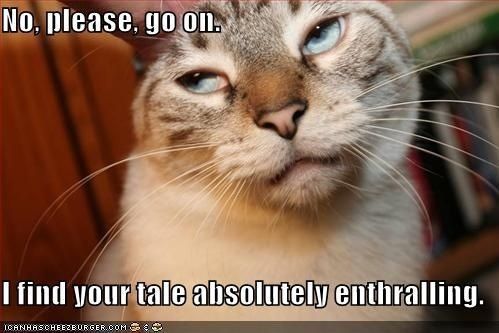 ---
Drewculous

-

3-22-2012 at 06:20 PM



Just take the wheels off, and maybe add a crossmember for the fork... then just strap down tight ... Or get the vertical hitch buggy mount ive seen...

Or a big,thick blanket, roll the windows down, and tie off



Pics would help immensly *wink *wink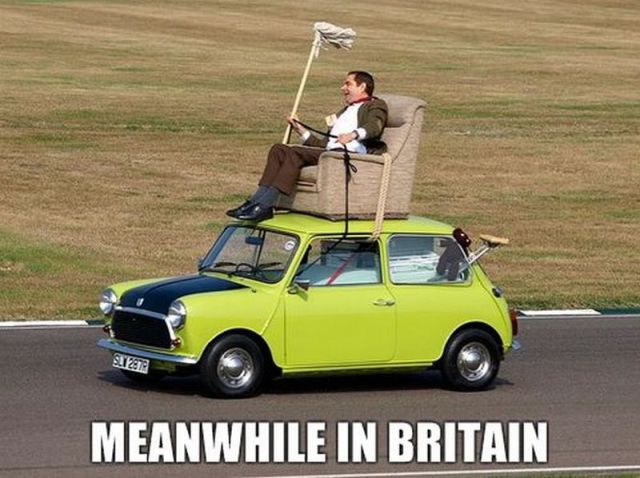 ---
Drewculous

-

3-22-2012 at 06:24 PM



Todd needs to chime in, that guy can haul a lot of buggy
---
mougl

-

3-22-2012 at 06:28 PM





Pics will be taken at JIBE



The Corsair FD (Flying Dutchman) will remain a mystery till then...
---
dman

-

3-22-2012 at 06:42 PM



Are you putting the buggy on the prius or the prius on the buggy? I'm just trying to get it in my head so I can offer a suggestion
I once saw an ant hauling a potato chip that had to be 10 times his size and that is what I'm seeing here. I'm just sayin.
---
mougl

-

3-22-2012 at 06:44 PM



I knew this was coming

---
WELDNGOD

-

3-22-2012 at 07:12 PM



Dude......
---
DAKITEZ

-

3-22-2012 at 07:15 PM



like this

---
WELDNGOD

-

3-22-2012 at 07:15 PM



you need a truck

---
WELDNGOD

-

3-22-2012 at 07:16 PM



I can take pics of Todds rig. His car is here at my house.
---
DAKITEZ

-

3-22-2012 at 07:19 PM





I have one just cost to much in fuel to drive it lol


---
mougl

-

3-22-2012 at 07:24 PM



Ok so foot and crossbar with a cargo basket? Is that a bike rail holding the front tire?
---
mougl

-

3-22-2012 at 07:25 PM



Also, what is holding the rear axle?
---
DAKITEZ

-

3-22-2012 at 07:37 PM



all custom fabbed bro ... think outside of the box lol

Call me this weekend and I will fill you in on what you need to build. Mine is a bit of over kill. Now that I have done it I know what I would have done different so you can benefit off my build.

Also Todd has me beat with 2 bugs on his roof ... def check out his setup
---
mougl

-

3-22-2012 at 07:43 PM



ahhh, looking at it zoomed in on a larger screen I see a bit better. Yeah, looks like I may have to have it fabbed up here. I can't see shipping something like that

I'll call u this weekend for some ideas and I'll get with the buggy builder to get some measurements.

Laugh all you guys want at the Prius, I'll laugh my way to the gas pumps
---
burritobandit

-

3-22-2012 at 07:47 PM



I have a Honda Fit and use a Saris Bones 3-slot bike rack to hold my buggy, so it sits behind the car. Basically, I pull the wheels off the buggy and lay the rear axle across the rack and fasten it down (the buggy sits upside down). To prevent it from swaying forward and back, I use bungie cords.

The only downside is that it makes accessing your hatch a pain when you've got it stowed back there.
---
mougl

-

3-22-2012 at 07:52 PM



Now that's a hell of an idea. My main concern to all of this is that the roof of the Prius is sloped up top. Might make things tricky. I thought about having a class 1 hitch put on it and having a rack fabbed up but having a hard time finding a hitch receiver that will work for the Prius with a 300# tongue weight rating. Probably overkill but I want to be sure there are no failures at highway speeds.
---
Drewculous

-

3-22-2012 at 08:06 PM



So... Do I hafta make a rack, in addition to the ever changing hitch, for you too?



---
mougl

-

3-22-2012 at 08:07 PM



I have the rack covered, besides....I would have to give up more info about the buggy in order to have you build it



Still looking for a 300# TW receiver....apparently 200 is as high as it goes for the Prius...
---
BeamerBob

-

3-22-2012 at 09:33 PM





I've gotta say................. You have some HOOJ kiwis to come on here with this bunch, talking about your Prius. It is at least a manly color right. Not light blue? A cool black one with custom wheels whispers past me in front of the school every morning.

I'll back Dino up if anyone teases him about his Cube. Right beside the driveway is a Chevy dually with a big block in it.

I wonder if you can get 30 mpg with this mystery buggy undoing all the wind tunnel testing your car went through!
---
mougl

-

3-22-2012 at 09:41 PM



Dark gray metallic with 20% tint and wheels getting ready to go to powder coat. Going to get smoked lenses for the lights too. Might go with a hitch and rack on the back, should still get over 40mpg highway depending on if I leave wheels on the buggy.



---
BeamerBob

-

3-22-2012 at 09:45 PM





Ok, yours sounds like its a cool looking one then.



I did a quick google search and saw that they do indeed make hitches for it.


Vegas.com is just a mile away from me. I'll see if I can get them to set a line on getting 40+ with the buggy on top at highway speeds.


---
mougl

-

3-22-2012 at 09:53 PM



On top you'll be lucky to get 34-35. I found class 1 hitches all over the place, I want a class 2 though so I'm going to check with a local shop next week on my day off. I really want 300 lb TW. I don't want to risk a mishap at 75mph on the interstate.

fuel economy is why I'm considering a rear mounted hitch rack. Less interference with air flow over the car. Still sacrificing some mpg but not nearly as much. I'm figuring a 10% loss. I average 45 mpg at 75-80 mph on the highway so figure 10% loss for rear mounted rack I'm still in the 40 range. Granted this is simply theory, but I'd bet a years wages I'm above 35 up to 40 depending on roads.

I just re-read that, buying a Prius made me do math...noooooooo!!!!!!
---
awindofchange

-

3-22-2012 at 09:54 PM



They do make a trailer hitch for the Prius. It is a class 1 hitch for $150.00. Installs without any drilling or fab, just bolt it on. it is a class 1 hitch and will be more than strong enough to haul a small flat bed trailer like in the link below.

Trailer Hitch:
http://www.juicedhybrid.com/SearchResults.asp?Search=prius+r...

Flat Bed Trailer from harbor Freight $299.99 (4x8 size, 1000 lb capacity)
http://www.harborfreight.com/automotive-motorcycle/trailer-a...

Total price out of pocket - around $465.00 (with the purchase of a couple tie down straps and such) and you have a trailer that can be used for other things as needed, easy to load the buggy and you don't risk damage to the Prius while you drive past the gas pumps, just bolt it all together and go, no modifications, no fabrication, no hassle.

Harbor freight has another trailer rated at 800lb which would also be strong enough for a buggy, cost is $190.00
http://www.harborfreight.com/870-lb-capacity-40-inch-x-49-in...
---
BeamerBob

-

3-22-2012 at 09:56 PM



I'm betting 20% loss (at least) with the full buggy on top running 75 mph. I'm all in.
---
mougl

-

3-22-2012 at 10:03 PM



On top, yes. That's why I want to go rear rack



I've been all over the Prius forums doing homework



Kent, that's awesome news!!! That might be just the ticket! Thank you
---
awindofchange

-

3-22-2012 at 10:12 PM



We have several people who haul their land sailers behind small cars with these trailers and it works perfectly.
---
Drewculous

-

3-23-2012 at 05:41 AM



Dude I gotta see a prius tow a trailer.... That is freaking hilarious!

+1 for trailer tho... Sounds like the way to go ... Itll really pi$$ you off the first time you scratch that paint trying to lift a 150# 6' wide bug off the top if that thing...
---
Todd

-

3-23-2012 at 06:24 AM






I know right? Scott and Dino make a cute couple





Hitch+ Donnie special fab support+ one thule roof rack + one motorcycle ramp = one happy hauling Prius owner.

There ya go stud muffin!
---
lad

-

3-23-2012 at 06:52 AM




---
BeamerBob

-

3-23-2012 at 07:50 AM





So you found lots of other guys with Priuses hauling race buggies up top?



The trailer would really be nice and I'd go that route if I had a place at home to keep one.
---
Todd

-

3-23-2012 at 08:01 AM



Had to go on the big computer to post this pic...



---
Roadkyllphil

-

3-23-2012 at 08:02 AM



Wait!!! You mean a Prius can do 70-80 mph. Is that with a tailwind and downhill???

---
mougl

-

3-23-2012 at 09:32 AM



Todd, nice rig there man! Class 1 hitch?

Love all the Prius humor here, honestly. Would have bought something a bit more fitting had I known the Corsair was on the horizon



Considering the trailer Kent linked. Just a bit concerned about 12" wheels on the interstate.
---
DAKITEZ

-

3-23-2012 at 09:38 AM



I go from 31mpg to about 28mpg with the buggy on top. If I removed the seat and the back number plate I bet I might only lose 1mpg if that. Honestly it does not matter to me since my truck only gets about 9 mpg.
But seriously how far is your flying field? Are you driving a 100 miles every day to go fly? I would not think the lose of milage would add up that much to go fly. Its not like you are leaving the buggy up there all the time.
Hitch and trailer is a good option. I did not do it for a few reasons. pulling a trailer in CA you can only legally drive 55mph. With the bug on the roof I can do 70mph. And second my manual said warranty void if used to pull a trailer. So even though I did not plan to pull a trailer just a hitch mounted buggy rack I am sure they would still give me hassle if I needed some sort of warranty work and I had a hitch on there. Of course I could remove the hitch before I needed warranty but it just might cause drama and I did not want that on a new car.
---
Coolbreeze

-

3-23-2012 at 10:57 AM



yeah but if you drove a boys car you wouldn't have those issues...............
---
bigkid

-

3-23-2012 at 01:05 PM



my favorite.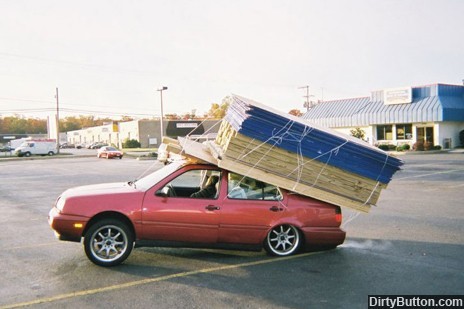 ---
BeamerBob

-

3-23-2012 at 01:48 PM





Ok, we found him some hitches. How about a nice 6" lift kit and some 12.50 Mud Terrains!
---
mougl

-

3-23-2012 at 01:51 PM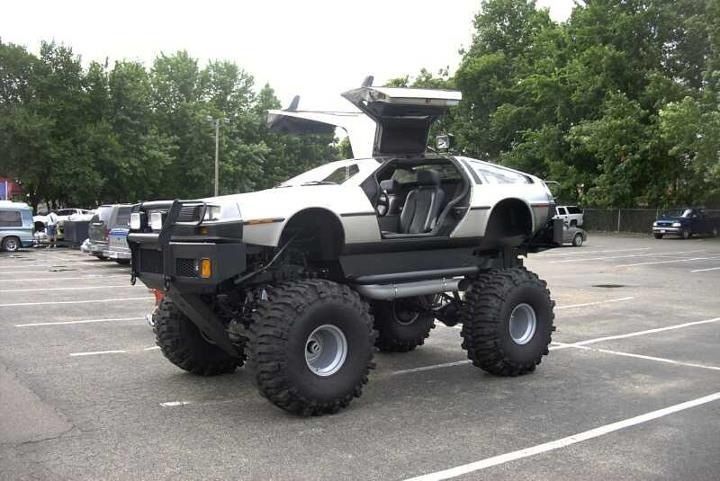 Should work...worked for DMC
---
DAKITEZ

-

3-23-2012 at 01:55 PM





last time I checked your manliness dropped a few pegs as well. Your new ride would fit in the bed of your old truck me thinks
---
mougl

-

3-23-2012 at 01:58 PM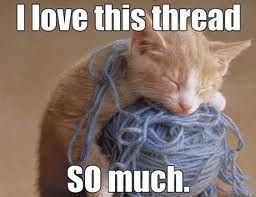 ---
cheezycheese

-

3-23-2012 at 02:08 PM





you mean like this...








---
Coolbreeze

-

3-23-2012 at 02:15 PM





Well, you're right, the Jeep is smaller but not by much. But I heard that those little Nissan's come with a complementary hair dresser's licence in the glove box, but I don't know for sure, nice color though matches the high lite's in your hair.

You have to park the Cube next to the jeep when I'm down there.

Hopefully I'll see ya in a few days, Cant wait. Let the good time begin.

CB (with the not so big Jeep)
---
BeamerBob

-

3-23-2012 at 02:54 PM



<LIKE> So now its the Coolbreeze/Dakitez show?
---
Coolbreeze

-

3-23-2012 at 03:18 PM



Nah......... just having fun. I'll leave the mud slinging up to Richard.
---
mougl

-

3-23-2012 at 05:34 PM



Cheezy: what class hitch is on that thing?
---
cheezycheese

-

3-23-2012 at 05:38 PM





Dunno, had it installed at U-Haul. It was the only one for my vehicle.
---
kite killer

-

3-23-2012 at 08:09 PM



I have done several upgrade hitches. Like yours, my Camry is only offered in class 1 or 2. What I have done several times is to use the lightweight hitch, reinforce with square stock or plate metal so it attaches to your frame, or at least a heavier part of the spare tire well. Some diamond plate on the inside gives alot more strength. Next I slide the tiny hitch in the receiver and weld a short piece of 2" square stock right on top. This seems to give me a good hitch height, and will receive a (normal) hitch, or bike rack. Step on the ball and keep reinforcing till it is solid. Backyard engineering gets the job done. Had the Ivanpah Buggy and a travel trailer on it.
---
tdmc96

-

3-24-2012 at 05:12 PM



I know, I know...its not a Prius.....its a Jeep....I run over Prius's...JK
I just had to post a picture up of the buggy on the new trailer hitch that Coolbreeze made up for me.......Many thanks Grant.

[IMG]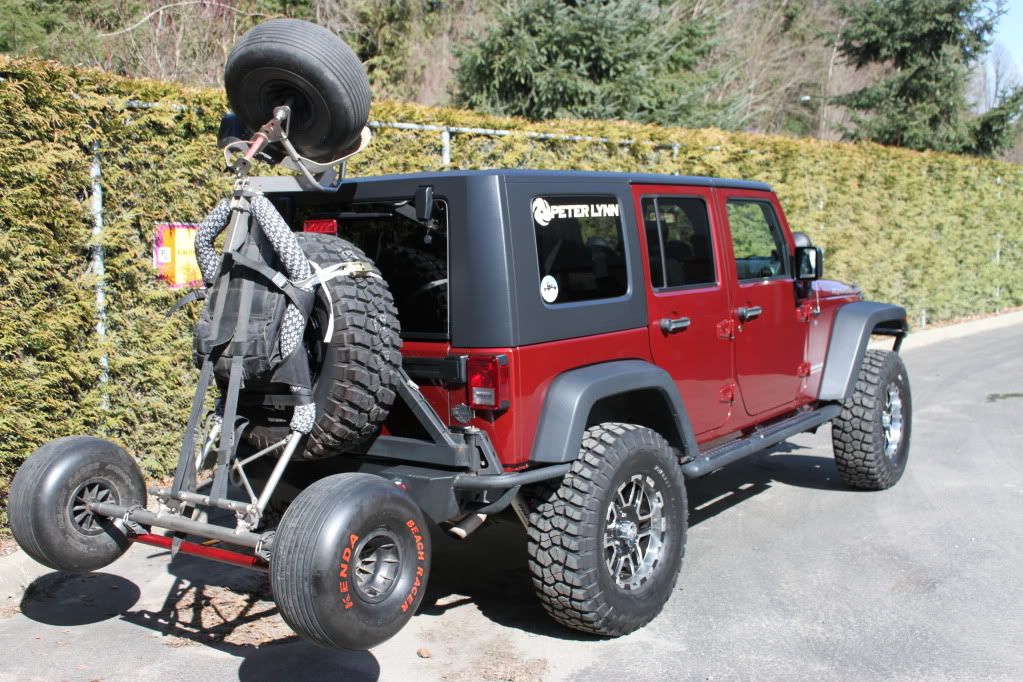 Cheers
Ken (K3)
---
bigkid

-

3-24-2012 at 08:06 PM



Ken/Coolbrease,
what is the clamp system you put on the bar to hold the rear axle down? does it lock? is it off the Yamaha systems or Thule?
---
heliboy50

-

3-24-2012 at 08:35 PM



OK, I had to get on mougl's team here a bit, my kia rio5 is smaller than a prius. 114hp automatic, but the thing only weighs 2600lbs. I call it the go cart for a reason
60 mile per day commute, 200 almost every weekend to the beach, gotta go with the little car. Gets 40 mpg when driven nicely, 24 when I drive it



I had a look at the larger folding trailer from HF with the 12" wheels in person, and they look pretty good. Grease zerk on the wheel bearings, 4 on 4 lug pattern and I think enough clearance under the fender well you could go up to a 14" wheel/tire to get the RPMs down on the hub - this is the problem with small trailer wheels.
---
Coolbreeze

-

3-24-2012 at 09:01 PM



They are Thule oar locks. They have a fastening cable but you can't actually lock them for security. They don't come lose and I've put many miles on mine.



CB
---
tdmc96

-

3-24-2012 at 09:07 PM






They are the Thule 839 Get-a-Grip multipurpose/oar holders.





I had them on the roofrack when I had the Blazer.
Sure glad I took them with me.
---
bigkid

-

3-24-2012 at 09:54 PM



Coolbrease/Ken, thank you thank you.
I have been looking for something as such, but not looking very hard. 27 straps to hold 2 bugs on the rack of the back of the wife's Motorhome is more of a pain than anything else. I like simple, simple is good. I will sell or trade one of my sons for 2 pair of clamps, any takers?
(the sons are not always as pleasant as the grand kids, the grandkids I keep, the sons can go)

---
eric67m

-

6-21-2018 at 09:19 PM



I had to dig up an old thread that related to what I had going on today with my car and kite buggy.

My wife has our Subaru impreza that I made a rear rack to hold my big buggy. I have to head to get part way to the ocean to ride the rest of the way with my parents in their truck. I have to drive my 1991 Toyota Mr2 to meet them. My big buggy isn't getting lifted easily on to that car by just me. It looks like I'll take my Flexifoil Navarro so I can get a little bit of play time. I figured out a way to hold it up there. Good old Thule square bar rack and some straps. I can still get into the back trunk. The engine compartment may be another story, good thing this car is generally reliable.

When you gotta buggy....


[img]
[/img]


[img]
[/img]
---
sand flea

-

6-22-2018 at 03:50 AM



Good job Eric
Neat at old thread
Lots of good memories...
---
BeamerBob

-

6-22-2018 at 05:06 AM



Quite a blast from the past to reread this post. Good job on the rack!
---
Buggy Rack
slapbasswoody

-

6-22-2018 at 06:47 AM



I found this tow rack in a dumpster.

It works a treat with both buggys on it.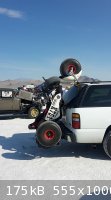 ---
mougl

-

6-22-2018 at 11:49 AM



I'm so glad I have a truck now...







LOVE that MR2!!!
---
abkayak

-

6-23-2018 at 04:52 AM



MR2 does look great like that

i carried my bug on top of an outback like that for years
sand on the tire will rub your paint off...and or make it shiny there
i can see you must labor over the finish and may loose sleep
i glued down rubber mat where the tire touched
---