Anubis

-

2-13-2006 at 11:19 AM



Hi, I´m out of the old part of europe like your pres. used to say...

I drive since 3 years now kite buggy,and at the moment i´m konstrukting and building my first compleet one with full tension.
Next year I´d like to fly to Nevada/ Primm...
I dont know how big is the scene ovr there we are here in germany arround 1500 people maybe ???!!( must lie)
do you have enough shop´s there? i found a view but just with old Traction kites, no Soulfly, U-turn or Amuns....
I use from U-turn the Butan... high end...
hope i get some answers...see you
Wish all "Stormydays"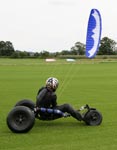 ---
Scoopy

-

2-14-2006 at 01:42 PM



Welcome to the forums. There are no importers of U-turn or Amuns here in the US. Shops cannot get them. I sell Soulflys. PKD is here. If you check the link to my shop at the bottom, I have ALMOST (not quite) every kite that is imported. I do not have some of the lower quality stuff. The scene here is very very small compared to europe. The good news is we have very few bans unlike europe.

Check the NABX, DBBB and SBBB forums here for much more information on lakebed buggying.

Scoop
---
Anubis

-

2-19-2006 at 12:19 PM



Hi to all,
I´ve got some question respectively to U.S.A
Do anybody know how big is the comounity inside the staates?
Do anybody made a research where are are the most of Kiters?
Where are other good places to drive Kitebuggy without the drylakes in Nevada?
Maybe some places where i´m also able to find by googe earth...
We have here (europe) a Windfinder.com
perfekt to see how the wind is...but i didn´t find yet something simular for USA can anyone help me?
I wish to have a averige of the windpower inside the USA and the different states.
Greetings to all
Anubis
---
Scoopy

-

2-19-2006 at 04:04 PM



www.wundergound.com has some wind info if you pick through it.
I have a map up with kiteflyers locations, but its very very incomplete. Seems most people that fly are in Europe. Cant really help with your other questions.

Scoop
---